My Blog
Posts for: November, 2012
By John P. Sousa D.M.D.
November 19, 2012
Some of the most important lessons parents and caregivers can give their children involve teaching and demonstrating good oral health habits. The following tips from the Centers for Disease Control and Prevention (CDC) are some ideas for helping you keep your children's teeth healthy.
Start cleaning teeth early.
As soon as a child's first tooth erupts (appears), you should clean it daily by using a clean, damp cloth. Once several teeth are in, you should switch to a small, soft-bristled toothbrush. As for using toothpaste containing fluoride, you typically should start using it to brush your child's teeth at around 2 years old. However, there are some situations in which we recommend using toothpaste earlier than age 2. It just depends on your child's mouth and development.


Use the right amount of fluoride toothpaste.
Many people are aware that using toothpaste containing fluoride is an important tool for fighting tooth decay. But, many are shocked to discover how much should be used and what could happen if too much is used and swallowed. Because children under the age of 6 may tend to swallow all or some portion of toothpaste, you should only use (and teach them to use) a small amount—about the size of a pea. Otherwise, they could be at risk for getting white spots on their permanent teeth years later from having swallowed too much fluoride. This is also a key reason for teaching children how to rinse and spit properly after brushing their teeth.


Supervise brushing.
Because children's abilities and maturity can vary greatly from child to child, you should brush your children's teeth until they have demonstrated the ability to handle the task alone. However, even when you give them the power to self-brush, you need to monitor them closely to ensure they are doing a thorough job, using the correct amount of toothpaste, and not brushing in a way that could damage teeth or gums. Brushing for too long and too hard are bad habits that can be detrimental to teeth and gums.


Talk to your child's doctor and with our office.
Did you know that your first appointment should be at age one? The age one dental visit can be critical in establishing great communication and trust, and preventing early childhood decay. And having a positive rapport with your dentist and physician is important at any age; however, it is vital for parents and caregivers to develop great communication with their healthcare professionals on behalf of their children from the start of life. Not only does it model good habits for them to observe, but it also helps you stay abreast of the oral and general health needs.
Want to learn more?
Contact us today to discuss your questions or to schedule a consultation. You can also learn more by reading the Dear Doctor article, "Oral Hygiene Behavior."
By John P. Sousa D.M.D.
November 01, 2012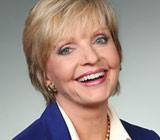 Florence Henderson has inspired generations of people through her portrayal of America's most beloved TV mother, Carol Brady, on one of the longest running situational comedies, The Brady Brunch. Today Florence is still a role model but for a much different audience: senior citizens.
Henderson created the FloH Club as an organization to assist senior citizens with understanding and embracing technology, as she described in an interview with Dear Doctor magazine. "I was inspired to create the FloH Club because of my own fear of technology and because I didn't want to keep asking my children for help," she said.
And while Henderson was blessed with naturally straight teeth and has had no cosmetic work done, she is not opposed to it. "I wouldn't care how old I was, if I had misaligned teeth or felt I needed cosmetic dentistry I would certainly do it!"
One teeth-straightening option many adults consider is clear orthodontic aligners. They are an excellent way for self-conscious adults to align their teeth without feeling that they will appear as an awkward "brace-faced" youth — a look that is commonplace for the teenage years.
But what are clear aligners? They are an alternative system to traditional braces that use a sequence of individual, custom-fitted trays that are clear and removable to gradually straighten teeth. They are usually recommended for correcting mild to moderate spacing problems or crowding of the teeth, and for cases in which there are no major issues with your bite (i.e., your back teeth fit together properly and biting forces are distributed evenly on all of your teeth).
To learn more about this method of aligning teeth, you can continue reading the Dear Doctor magazine article "Clear Orthodontic Aligners." Or you can contact us today to schedule an appointment so that we can conduct a thorough examination and discuss what treatment options will be best for you. And to read the entire interview with Florence Henderson, please see the Dear Doctor article "Florence Henderson."