My Blog
Posts for: April, 2013
By John P. Sousa D.M.D.
April 20, 2013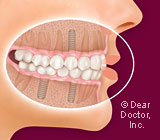 Modern dental implants, sometimes called "your third set of teeth," have revolutionized the practice of dentistry. As permanent replacements for missing teeth, dental implants are highly successful.
A dental implant is composed of two parts. The implant actually replaces the tooth root (like the root of your original tooth). It is usually made of commercially pure titanium, which has the capacity to fuse with the bone of your jaw. This fusion is called osseo-integration, meaning "becoming part of the bone." When this happens, living bone cells actually fuse with the surface layer of the titanium implant, which stabilizes the bone as well. A crown (the part of the tooth that is visible above the gum line) is attached to the implant and can be made of ceramic material that exactly matches the appearance of your natural teeth.
Studies have shown that the success rate of dental implants is greater than 95%. Here's what we need to know to make sure dental implants succeed:
We need to know about your general health. Do you smoke? What medications are you taking? Do you have osteoporosis or a compromised immune (resistance) system?
We will also perform a detailed assessment of the health of your teeth, gums, and jaws to ensure you are a candidate for dental implants.
Do you have sufficient bone to anchor the implants? Is the bone quality adequate? Tooth-supporting bone tends to melt away or resorb when a tooth is lost, so it is important to ensure that it is maintained when a tooth is lost or extracted. We can perform bone grafting to minimize resorption and build up bone tissue if necessary. We will consider the quality and quantity of your bone as part of your assessment.
After the implants have been placed, good dental habits are important. As with your natural teeth, carefully cleaning your new implant crowns and their surrounding gums every day is a necessity.
Continue to visit us on a regular basis. Regular checkups and maintenance can avoid breakdown of the surrounding bone and gum tissues.
If you grind your teeth, we can provide you with a night guard to help to protect your implants from wear and undue stress, which can affect the integration with the bone.
Implants are an excellent choice to replace missing teeth. Contact us today to schedule an appointment or to discuss your questions about dental implants. You can also learn more by reading the Dear Doctor magazine articles "Dental Implant Success Rate" and "Dental Implants: Your Third Set of Teeth."
By John P. Sousa D.M.D.
April 04, 2013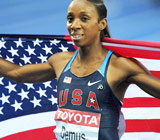 Lashinda Demus holds the U.S record in the 400 meter hurdles, with a time of 52.47 seconds, the third fastest ever recorded. While her twin 5-year-old boys cheered her on, she brought home a silver medal from the 2012 London Olympics. But when it comes to her full set of upper and lower braces, there's no silver to be seen!
Demus is a top-ranked competitor, a wife and a mom — and an adult who is currently in orthodontic treatment. With her orthodontist's approval, she chose clear ceramic braces. These are just one of the treatment options available to adult patients, many of whom prefer a less noticeable style of orthodontic appliance.
As many as three-quarters of adults are thought to have some form of orthodontic problem. Common issues include teeth that are crowded too closely together, or ones that have drifted too far apart after an extraction or other tooth loss. It is believed that straightened teeth are easier to clean and better for chewing — they can also improve an adult's social life, and even his or her career prospects!
Some grown-ups may hesitate to consider orthodontic treatment because they remember the "railroad tracks" they saw in junior high school. In fact, there have been many changes in orthodontic appliances in the past few years. Two popular choices for adults are colorless braces (the kind Demus wears) and clear orthodontic aligners.
Colorless ceramic braces are made of high-tech composite materials. They resist staining, and are less noticeable because their translucent appearance blends with the teeth. Often, a single wire is the only part that's plainly visible. Sometimes it's even possible to place them on the lingual (tongue) side of the teeth.
Clear aligners are an alternative to braces that are available to adults and teens. Instead of wires and attachments, these consist of a series of transparent, removable trays that are placed over the teeth and worn 20 hours per day. Over a period of six months to two years, the teeth are gradually straightened as you progress from one computer-designed tray to the next. Best of all, you can remove the trays completely to clean your teeth, and for important occasions.
Which one is right for you? It depends. While aligners have been successful in treating mild to moderate spacing issues, more difficult problems with the bite may require a more traditional form of braces. Also, there are a few health problems which might need to be attended to before orthodontic treatment is begun. The best way to learn about your options is to come in for a consultation. But remember: if you want a better smile, it's never too late.
If you would like more information about orthodontic choices, please contact us or schedule an appointment for a consultation. You can also learn more by reading the Dear Doctor magazine articles "Orthodontics For The Older Adult" and "Clear Orthodontic Aligners."