My Blog
Posts for: January, 2014
By John P. Sousa D.M.D.
January 23, 2014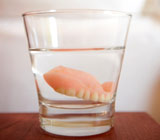 There's no dispute in most cases that dental implants are superior to removable dentures as a restoration for missing teeth. One area in particular is the effect a removable denture can have on remaining bone and other structures of the mouth, especially if their fit becomes loose.
If you're a denture wearer, you probably know that loose dentures are a major problem, one that can worsen the longer you wear them. The denture compresses the gum tissue it rests upon to produce forces that are more detrimental than what the jaw normally receives from natural teeth. The underlying bone will begin to dissolve (resorb) under these compressive forces. This in turn changes the dynamic of the denture's fit in the mouth, and you'll begin to notice the fit becoming looser over time.
The loose fit can be remedied with either the production of a new denture that updates the fit to the current structure of your jawbone or by relining the existing denture with new material. Relining can be done as a temporary measure with material added to the denture during your visit to the office, or as a more permanent solution in which the material is added at a dental laboratory. With the latter option, you would be without your dentures for at least a day or more.
Even if dental implants for multiple teeth aren't feasible for you financially, you do have other options. With one particular option, the removable lower denture can be held in place and supported by two strategically placed implants. Not only can this lessen the risk of developing a loose fitting denture, it may also alleviate most of the compression on the gum tissue and reduce the rate of bone resorption. The result is better function for eating and speaking and often a boost in self-confidence, as well as many more years of effective wear from your dentures by limiting bone loss.
If you would like more information on the effects and treatment of loose dentures, please contact us or schedule an appointment for a consultation. You can also learn more about this topic by reading the Dear Doctor magazine article "Loose Dentures."
By John P. Sousa D.M.D.
January 08, 2014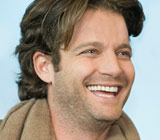 Nate Berkus, author, interior designer and host of his own television program, The Nate Berkus Show, is a consummate professional who has always focused on "helping others love the way they live," as he puts it. Berkus is known as one of America's most beloved go-to-guys for inspiration on the latest design trends. And then there is his captivating smile.
In an exclusive interview with Dear Doctor magazine, Berkus discusses his trademark smile. Unlike most people in Hollywood, his smile is totally natural — he never wore braces or had any cosmetic work. However, Berkus does give credit to his childhood dentist for the preventative healthcare he received as a young boy. Berkus states, "I'm grateful for having been given fluoride treatments and sealants as a child. Healthy habits should start at a young age."
As for his oral hygiene routine today, Berkus says he brushes his teeth at least two times a day, and sometimes three times a day. Berkus is also an avid "flosser" and follows the important flossing advice he learned from his dentist: "Floss the ones you want to keep."
In addition to his design expertise, Berkus is right on the mark with his opinions on oral hygiene. In fact, he inspired our office to put together the following list of facts and oral health tips:
The first step in improving your oral health is to learn good oral hygiene behavior. Simply put, to maintain optimal oral health, you must brush and floss properly so that you thoroughly remove the dental plaque.
The second step is a thorough evaluation system. We are a key part of this step. During your next office visit, we can conduct a thorough examination, review your brushing and flossing techniques, examine the health of your tongue and discuss any questions you have. We can also clean your teeth and ensure that you leave our offices confident with your new oral hygiene routine. And if you don't have an appointment, contact us today to schedule one.
To learn more about improving your oral hygiene, you can continue reading the Dear Doctor magazine article "Oral Hygiene Behavior - Dental Health For Life." And to read the entire interview with Nate Berkus, please see the article "Nate Berkus."