My Blog
Posts for: April, 2014
By John P. Sousa D.M.D.
April 17, 2014
We're always tickled to see dentists represented in popular culture, especially when portrayed by an actor as handsome as John Stamos. On the hit television show Glee, Stamos played a dentist who made sure the glee club members cleaned up their act when it came to oral hygiene — though perhaps he used a bit too much anesthesia to achieve this admirable goal. While under his care — and lots of sedation — several Glee characters had music-infused hallucinations in which they danced and sang with pop star Britney Spears.
Far-fetched? No doubt. Still, it's worth mentioning that sedation has its place in dentistry. In fact, if you are someone who tends to get anxious or even fearful about dental treatment, you should know that sedation can help you relax both mind and body so you can feel peaceful rather than anxious in the dentist's chair. And that's the whole point: Fear of pain should not stand in the way of your getting the care that will keep you healthy and allow you to keep your teeth for as long as possible.
You may not know this, but when you are afraid, your threshold for pain is actually lower. You become hypersensitive to every sensation and sound, and you tense your muscles. Fear and anxiety trigger the release of certain chemicals that put you in "fight or flight" mode. In this heightened state of alert you experience more pain during and even after treatment.
The good news is that this response can virtually be eliminated with various oral sedatives and/or with nitrous oxide, which is inhaled. Both treatments will allow you to let your guard down and relax. Your apprehension and hypersensitivity to pain will disappear, even though you are still conscious. And when you are relaxed, we are better able to focus on the task at hand, knowing that you are comfortable.
The sedatives used in dentistry have been subjected to rigorous testing and have a strong safety record backed by decades of use. Several even have "amnesic" properties, meaning that you will remember little to nothing of your treatment — unless, of course, you end up singing and dancing with Britney Spears!
If you would like more information about sedation in dentistry, please contact us or schedule an appointment for a consultation. You can also learn more by reading the Dear Doctor magazine article "Oral Sedation Dentistry." Dear Doctor also has more on "Overcoming Dental Fear & Anxiety."
By John P. Sousa D.M.D.
April 02, 2014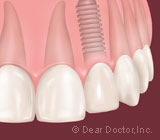 Dental implants provide a number of advantages as a tooth replacement system, like durability and imperviousness to decay or gum disease. Bone naturally grows and attaches to the titanium posts, strengthening the attachment over time, and they don't cause damage to adjacent teeth. Best of all, an implant and its crown's life-like appearance can rejuvenate a person's smile, transforming their appearance and self-image.
But it takes time to complete treatment with dental implants — months of healing and sufficient bone growth to anchor the implant before affixing the permanent crown. If the natural tooth requires extraction first, this may add another step — and more healing time — to the process.
In recent years, though, patients who meet certain criteria are able to shorten the time after a tooth extraction with "immediate" implants. In this case, rather than waiting for the socket to heal following a tooth extraction, the implant is placed directly into the socket immediately after the extraction. Immediate implants thus combine tooth extraction and implantation into one procedure.
For the best results, the extraction must be done very carefully to avoid as little damage as possible to surrounding tissue and bone. It's also important for the implant to be completely immobilized within the bone with no movement at all. It will stabilize further as bone growth (or ossification) occurs over time.
It's also possible to attach a provisional crown to the immediate implant for aesthetic purposes. This isn't the permanent crown that will be affixed after bone growth around the implant; for that reason it's made in such a way that it doesn't contact its counterpart tooth in the opposing jaw. Although the implant is completely immobilized mechanically, it's still not ready for the full forces of normal biting and chewing. After two to three months, the implant should be fully integrated with the surrounding bone and ready for the permanent crown.
Immediate implants are best for the more visible front teeth that encounter less biting force than back teeth. The technique not only reduces healing time, but enables patients to gain an "immediate" aesthetic benefit — and something worth smiling about.
If you would like more information on immediate implants or other dental implant options, please contact us or schedule an appointment for a consultation. You can also learn more about this topic by reading the Dear Doctor magazine article "Immediate Implants."