My Blog
Posts for: July, 2014
By John P. Sousa D.M.D.
July 30, 2014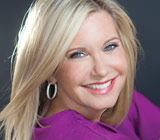 Though it's been a while since Olivia Newton-John sang her way into our hearts in the movie Grease, her smile is as radiant as ever. Today, Olivia is still singing, acting and busy with new ventures such as authoring a cookbook and raising money for the cancer center that bears her name in Melbourne, Australia. Whichever part of the world Olivia finds herself in, she protects that beautiful smile with an oral appliance that many find beneficial.
"I wear a nightguard to prevent wear on my teeth, custom-made by my dentist," Olivia recently told Dear Doctor magazine. "I love it!"
Olivia's device, also referred to as a bite (occlusal) guard, is designed for people who clench or grind their teeth at night, or during stressful periods. Made of thin, wear-resistant plastic, it is custom-made to fit exactly over your top teeth. This allows the bottom teeth to slide gently across the top teeth without biting into them. Not only does this prevent excessive tooth wear, it also helps relax the muscles of the jaw.
Grinding or "bruxing," as it's also called, can affect virtually any part of the oral system: the jaw joints or muscles, resulting in spasm and pain; the teeth themselves, resulting in wear, fractures or looseness; it can even cause an aching in the ears, head, neck or back.
If you are a teeth-grinder, you might not even know it unless a sleeping partner hears it or your dentist notices signs of wear. These habits are called "parafunctional" (para – outside, function – normal), meaning the biting forces it generates are well outside the normal range — sometimes as much as 10 times normal. So it's no wonder that damage to teeth can occur if they are not protected.
If you have any questions about grinding habits or nightguards, please contact us or schedule an appointment for a consultation. If you would like to read Dear Doctor's entire interview with Olivia Newton-John, please see "Olivia Newton-John." Dear Doctor also has more on "Stress & Tooth Habits."
By John P. Sousa D.M.D.
July 15, 2014
Think of New Orleans, Louisiana, and what comes to mind? The sound of jazz pouring out from a nightclub in the French Quarter… the smell of shrimp boiling in a spicy gumbo… the fresh feeling you get after you've cleaned between your teeth with dental floss?
You may not know it, but besides its culinary charms and musical mojo, New Orleans has another claim to fame: It's the historical home of dental floss. In the early 1800's, a pioneering dentist by the name of Dr. Levi Spear Parmly recommended that his patients clean between their teeth with a silken thread. Long before the role of oral bacteria was recognized, it was Dr. Parmly's belief that cavities were caused by foreign material on the tooth surfaces. But it took until nearly the end of the century for his invention to become available in handy dispensers. And the rest, as they say, is history.
Today, of course, we know much more about the causes and treatment of tooth decay. For example, we know that harmful bacteria in plaque — the sticky biofilm that builds up on your teeth in the absence of effective cleaning — release chemical substances that erode tooth enamel; this causes cavities (tiny holes in the tooth) to begin forming. We also know that while brushing alone helps remove plaque, it's far and away more effective when combined with flossing.
Yet there's one thing we're still not sure of: Why don't more people use dental floss regularly? Did you know that with careful attention to your oral hygiene, tooth decay is almost completely preventable? Plus, dental floss is now available in many different varieties: It's no longer made of silk, but can consist of nylon or gore-tex thread; it comes waxed or unwaxed, round or flat… even flavored like mint or bubble gum!
So here's our suggestion: Find a style of dental floss you like, picture yourself on Bourbon Street… and spend a few minutes flossing every day. Your teeth will say "merci beaucoup."
If you would like more information about flossing and cavity prevention, please call our office to schedule a consultation. You can learn more in the Dear Doctor magazine article "Tooth Decay."