My Blog
Posts for: September, 2018
By John P. Sousa D.M.D.
September 20, 2018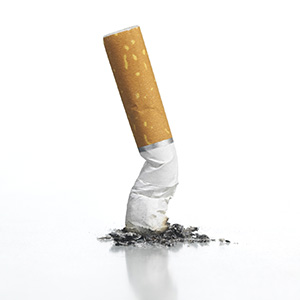 With a 95-plus percent survival rate after ten years, dental implants are one of the most durable replacement restorations available. Implants can potentially last much longer than less expensive options, which could make them a less costly choice in the long run.
But although a rare occurrence, implants can and do fail—often in the first few months. And tobacco smokers in particular make up a sizeable portion of these failures.
The reasons stem from smoking's effect on oral health. Inhaled smoke can actually burn the outer skin layers in the mouth and eventually damage the salivary glands, which can decrease saliva production. Among its functions, saliva provides enzymes to fight disease; it also protects tooth enamel from damaging acid attacks. A chronic "dry mouth," on the other hand, increases the risk of disease.
The chemical nicotine in tobacco also causes problems because it constricts blood vessels in the mouth and skin. The resulting reduced blood flow inhibits the delivery of antibodies to diseased or wounded areas, and so dramatically slows the healing process. As a result, smokers can take longer than non-smokers to recover from diseases like tooth decay or periodontal (gum) disease, or heal after surgery.
Both the higher disease risk and slower healing can impact an implant's ultimate success. Implant durability depends on the gradual integration between bone and the implant's titanium metal post that naturally occurs after placement. But this crucial process can be stymied if an infection resistant to healing arises—a primary reason why smokers experience twice the number of implant failures as non-smokers.
So, what should you do if you're a smoker and wish to consider implants?
First, for both your general and oral health, try to quit smoking before you undergo implant surgery. At the very least, stop smoking a week before implant surgery and for two weeks after to lower your infection risk. And you can further reduce your chances for failure by practicing diligent daily brushing and flossing and seeing your dentist regularly for cleanings and checkups.
It's possible to have a successful experience with implants even if you do smoke. But kicking the habit will definitely improve your odds.
If you would like more information on dental implants, please contact us or schedule an appointment for a consultation. You can also learn more about this topic by reading the Dear Doctor magazine article "Dental Implants & Smoking."
By John P. Sousa D.M.D.
September 10, 2018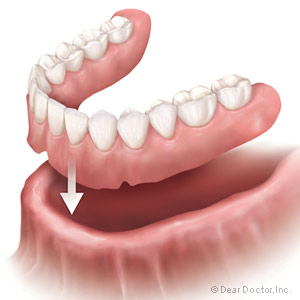 Since as many as 26 percent of older U.S. adults have lost all their teeth, there are a large number Americans who wear full removable dentures, also known as false teeth. You may be one of them.
How much do you know about dentures? See if you can answer the following questions connected with lost teeth and dentures.
Which word refers to the loss of all permanent teeth?

Atrophy
Prosthetic
Edentulism
Periodontal

What is the name given to the bone that surrounds, supports, and connects to your teeth?

Periodontal
Metacarpal
Tibia
Alveolar

What tissue attaches the teeth to the bone that supports your teeth?

Periodontal Ligament
Periodontal Muscle
Parietal Ligament
Achilles Tendon

When a person loses teeth, the stimulus that keeps the underlying bone healthy is also lost, and the bone resorbs or melts away. Pressure transmitted by dentures through the gums to the bone can accentuate this process, which is called

Dystrophy
Atrophy
Hypertrophy
None of the above

A device that replaces a missing body part such as an arm or leg, eye, tooth or teeth is referred to as

Robotic
Imaginary
Exotic
Prosthetic

When teeth have to be extracted, bone loss can be minimized by bone grafting. Bone grafting materials are usually a sterile powdered form of

Allograft (human tissue)
Xenograft (animal tissue)
Both
Neither

Wearers of full dentures must re-learn to manipulate the jaw joints, ligaments, nerves, and muscles to work differently in order to speak, bite, and chew. The name for this system of interconnected body mechanisms, originating with the root words for "mouth" and "jaw," is

Boca biting
Stomatognathic
Periodontal
None of the above

A type of plastic that is artistically formed and colored to make prosthetic teeth and gums look natural is called

methyl methacrylate
beta barbital
rayon
polystyrene

Success in denture wearing depends on

The skill of the dentist
The talent of the laboratory technician
The willing collaboration of the patient
All of the above
Answers: 1c, 2d, 3a, 4b, 5d, 6c, 7b, 8a, 9d. How well did you do? If you have additional questions about full removable dentures, don't hesitate to ask us.
Contact us today to schedule an appointment or to discuss your questions about dentures. You can also learn more by reading the Dear Doctor article, "Removable Full Dentures."