My Blog
Posts for tag: dental implant
By John P. Sousa D.M.D.
March 18, 2014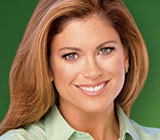 It is not often that you find a celebrity who is willing to speak candidly about any cosmetic or restorative dentistry that he or she has had. Instead, most prefer that their fans just assume that their dazzling "Hollywood" smile is something that just happened naturally. However, that is not the case with Kathy Ireland, the former Sports Illustrated cover girl, current business mogul and founder of kathy ireland Worldwide, a billion dollar marketing and design firm. In a Dear Doctor magazine cover story she talks openly about her dental experiences, injuries and treatment so that people worldwide can understand what may be possible for them.
For Kathy, it happened several years ago when she was playing with her husband and children in their driveway. Kathy decided that she would stand in her children's wagon and surf across their driveway. Instead, she ended up "face-planting," as she describes it, in a freak accident that left her with a broken nose, split forehead and several broken teeth. She recalls that it sounded like a watermelon had smashed. Luckily, her husband, an emergency room physician, was on hand to care for her. Kathy is just as thankful to her cosmetic and restorative dentist who restored her trademark smile with some veneers and a dental implant. Today, the only reminder she has from this accident is a small scar on her nose that she covers with a little makeup.
You would think that this accident would be enough trauma for one person; however, Kathy describes an earlier accident where she knocked out a tooth and then later knocked it loose again. Kathy also wanted to take the time to let readers know that her dental implant experiences were "pretty easy." She did recall, "hearing all the sounds while all of it was going on" and then added, "but I have to tell you, that after being a mom and having kids, going to the dentist...is like going to the spa!" She said that she has even fallen asleep in the dental chair.
To learn more about Kathy Ireland, continue reading the Dear Doctor magazine article "Kathy Ireland." Or if you think cosmetic or restorative dentistry is right for you, contact us today to schedule an appointment to discuss your specific goals.
By John P. Sousa D.M.D.
April 20, 2013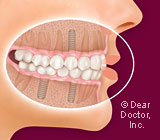 Modern dental implants, sometimes called "your third set of teeth," have revolutionized the practice of dentistry. As permanent replacements for missing teeth, dental implants are highly successful.
A dental implant is composed of two parts. The implant actually replaces the tooth root (like the root of your original tooth). It is usually made of commercially pure titanium, which has the capacity to fuse with the bone of your jaw. This fusion is called osseo-integration, meaning "becoming part of the bone." When this happens, living bone cells actually fuse with the surface layer of the titanium implant, which stabilizes the bone as well. A crown (the part of the tooth that is visible above the gum line) is attached to the implant and can be made of ceramic material that exactly matches the appearance of your natural teeth.
Studies have shown that the success rate of dental implants is greater than 95%. Here's what we need to know to make sure dental implants succeed:
We need to know about your general health. Do you smoke? What medications are you taking? Do you have osteoporosis or a compromised immune (resistance) system?
We will also perform a detailed assessment of the health of your teeth, gums, and jaws to ensure you are a candidate for dental implants.
Do you have sufficient bone to anchor the implants? Is the bone quality adequate? Tooth-supporting bone tends to melt away or resorb when a tooth is lost, so it is important to ensure that it is maintained when a tooth is lost or extracted. We can perform bone grafting to minimize resorption and build up bone tissue if necessary. We will consider the quality and quantity of your bone as part of your assessment.
After the implants have been placed, good dental habits are important. As with your natural teeth, carefully cleaning your new implant crowns and their surrounding gums every day is a necessity.
Continue to visit us on a regular basis. Regular checkups and maintenance can avoid breakdown of the surrounding bone and gum tissues.
If you grind your teeth, we can provide you with a night guard to help to protect your implants from wear and undue stress, which can affect the integration with the bone.
Implants are an excellent choice to replace missing teeth. Contact us today to schedule an appointment or to discuss your questions about dental implants. You can also learn more by reading the Dear Doctor magazine articles "Dental Implant Success Rate" and "Dental Implants: Your Third Set of Teeth."